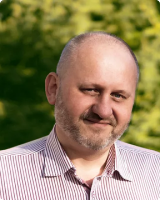 Medical Director, International
Dr. Ostrowski is an internal medicine and medical oncology physician, with broad clinical practice and corporate advisory experience.  Dr. Ostrowski recently served as Chair and Medical Director of Oncology at the Multispecialty Regional Hospital in Gorzow Wielkopolski, Poland.  His clinical expertise covers treatment of all solid tumors.
 
Dr. Ostrowski has been involved in more than 20 phase II-IV clinical trials, where he has served in capacities including Principal Investigator and led activities ranging from protocol development and clinical trial investigator/site selection, to regulatory body and ethics committee submissions, to monitoring audits and managing study closeouts.  Dr. Ostrowski has served as a lead medical consultant and/or advisor to many international companies including Hoffmann La Roche, Actelion Pharmaceuticals, ZLB Behring and Windtree Therapeutics.  He is an active member of numerous international committees providing drug development safety oversight such as the International Safety Assessment Committee for Tracon Pharmaceuticals and the Data Monitoring Committee for Agenus Inc.  Dr. Ostrowski is also Chairman of the regional branch of the National Cancer Registry in Poland.
 
Dr. Ostrowski received his medical degree from the Nicolaus Copernicus University, Collegium Medicum in Bydgoszcz, Poland and his medical oncology training in the Center for Postgraduate Medical Education and Oncology Institute in Warsaw, Poland.