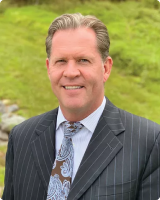 Vice President of Strategic Programs
With over twenty years of heightened expertise in financial management, government logistics and customer and investor relationship management, Johan Louw now serves as Vice President of Strategic Programs at Immunicom. As a senior executive, Johan is extremely motivated and determined.
 
Johan started his investment banking career with Morgan Stanley in New York and from there, moved on to become Vice President and Partner at Calton Hill Capital Markets; working with a focus on development and business acquisition at this time aided in Johan's strategic abilities he emulates in his work today. From Calton Hill, Johan ventured on to become the Chief Operating Officer for a medical service company that was subsequently acquired. Throughout his career, Johan has fostered multiple advisory roles within numerous startup entities. With a high success rate regarding raising the capital needed for a variety of industries (ranging from startups and land acquisition all the way the oil services industries), Johan encompasses a unique and strategic skill set for the world of investments.
 
Originally hailing from South Africa where he received his BCom from the University of Stellenbosch, Johan has a diverse history. He also proudly served in the armed forces for two years. In his free time, he loves getting involved with sports; especially golf, surfing and rugby. Johan's track record speaks for itself. His successful projects were in capital raising, mergers and acquisitions, and turnaround management. Through the course of his career, he's been able to consistently find the capital needed for a business to grow, acquire or expand, while nurturing client relationships and closing key accounts.