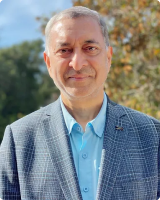 Raju Chauhan has over 30 years of experience working in technology development and managing teams across the globe with a proven record of creating and delivering innovative, cost-effective solutions for mission-critical business problems. Raju has been an integral part of managing projects for several fortune 50 companies as well as startups in healthcare space.
​
Formerly at Cardinal Health, Raju managed teams spread across several locations in USA. Raju has also managed and worked with many different teams in several countries including Canada, China, India, and Ukraine. Raju has worked in many different industries including Medical device manufacturers, Healthcare, Oil and Gas, Software, Telecommunications, Food and Beverages, Airlines, Credit Bureaus, Background Checks, Real Estate, Professional Services and Utilities.
 
Raju received his Masters of Computer Science degree from Mississippi State University, Mississippi State. He has developed a passion for hiking and recently hiked to Everest base camp with his wife and friends. He plans to climb Kilimanjaro in the near future and has plans for several other high profiled hikes around the world.