Breakthrough Immunotherapy Earns First Regulatory Approval for Triple Negative Breast Cancer (TNBC)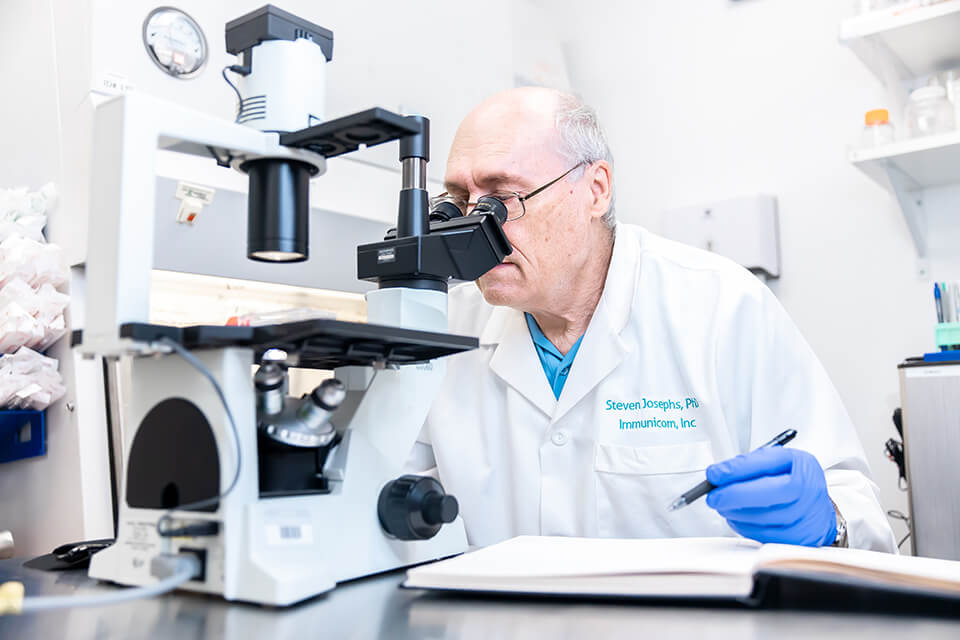 Immunopheresis™️ therapy holds great promise for avoiding serious drawbacks of existing pharmaceuticals and improving patients' quality of life
SAN DIEGO, March 23, 2021 – Immunicom, Inc., a global biotechnology company pioneering novel "subtractive" immunotherapies, today announced that the ImmunopheresisTM LW-02 blood-filtering column, its leading immuno-oncology product with FDA Breakthrough Device status, has received regulatory clearance (CE Mark certification) in Europe for use in adults with advanced, refractory triple negative breast cancer (TNBC).

This CE certification, believed to be the first granted to an immunotherapy to address advanced cancers, is a significant milestone in the battle against refractory, metastatic TNBC, an advanced cancer that frequently evades standard treatments and has created an urgent need for new and effective therapies.

"TNBC accounts for up to 20% of breast cancer cases and is much more aggressive and often carries a worse prognosis than other forms of breast cancer. Treatment options for many are limited to chemotherapy, usually providing only short-term benefit and frequently accompanied by serious side effects." said Amir Jafri, Founder and CEO of Immunicom.

In stark contrast to traditional "additive" treatments such as chemotherapy and Immune Checkpoint Inhibitors (ICI's), which introduce foreign substances into a patient's body and are often accompanied by adverse side effects, Immunicom's patented "subtractive" technology is designed to limit treatment-associated adverse effects while removing immune system inhibitors from the blood, energizing the immune system to address the cancer.

"I believe Immunopheresis has the potential to be a universal therapy that we have all been waiting for. Currently we are observing it to be extremely well tolerated and we are seeing some early, promising antitumor activity" explained Dr. Piotr Wysocki, MD, PhD, Department Head of Oncology at the Jagiellonian University – Medical College Hospital in Krakow, Poland and the president of the Polish Society of Oncology.

Subtractive Therapy – ImmunopheresisTM and the LW-02 Column
Immunicom's innovative Immunopheresis approach uses the LW-02 column to extract specific immune-suppressive cytokines produced by cancer tumors. Selective removal of these targeted cytokines is intended to neutralize cancer's ability to block a patient's natural immune defense mechanisms which are significantly compromised in late-stage, metastatic disease and thereby "re-energizes the immune system to aggressively fight cancer." Immunopheresis is a "subtractive therapy", in contrast to drugs that are "additive", subtractive therapy is meant to avoid the side effects, toxicity and negative impact on a patient's quality of life typical of other cancer treatments.

Immunicom believes that the LW-02 column could be used either in combination with other therapies or as a stand-alone treatment. The LW-02 Immunopheresis column has already received Breakthrough Device Designation for stage IV metastatic cancers from the U.S. Food and Drug Administration (FDA). Immunicom has obtained ISO 13485 certification for its manufacturing and related quality systems.

The LW-02 Immunopheresis column is currently being evaluated in several global oncology trials for multiple cancers, including TNBC, non-small cell lung cancer (NSCLC), metastatic melanoma and renal cell carcinoma. It is being investigated both as a monotherapy and in combination with low-dose metronomic chemotherapy and the well-known immunotherapy checkpoint inhibitors Opdivo® (Bristol-Myers Squibb) and Tecentriq® (Roche). These trials are being conducted in collaboration with world-renowned research organizations and thought leaders including:

Poland – at Jagiellonian University of Krakow Hospital, under the direction of Principal Investigator, Professor Piotr Wysocki, MD, PhD; and

Israel – at Sheba Medical Center's Ella Lemelbaum Institute for Immuno-Oncology (Tel Aviv), under the direction of Dr. Ronnie Shapira, MD and Prof. Gal Markel, MD, PhD; and

Turkey – at Acıbadem Altunizade Hospital (Istanbul), a member of the Acıbadem/IHH Healthcare Group, under the direction of Principal Investigator, Prof. Dr. Gokhan Demir, MD, PhD.

For an overview of how Immunopheresis breakthrough technology works, watch Immunicom's How it Works video.

Immunopheresis and the LW-02 column is considered an investigational therapy by the U.S. FDA and other regulatory authorities. The clinical efficacy of the LW-02 column has not yet been demonstrated. Clinical investigations evaluating the clinical efficacy of the LW-02 column for TNBC are ongoing.

About Triple Negative Breast Cancer
Triple-negative breast cancer (TNBC) has fewer treatment options than other types of invasive breast cancer. TNBC is considered an aggressive cancer because it grows quickly, is more likely to have spread at the time it is found and is more likely to come back after treatment than other types of breast cancer.
TNBC tumors do not express estrogen or progesterone receptors and an excess of the protein called HER2. This means the growth of the cancer is not fueled by the hormones estrogen and progesterone or by the HER2 protein, which limits the effectiveness of hormone therapy or targeted drugs. These cancers tend to be more common in women younger than age 40, those that have what is called a "BRCA1 mutation," and African Americans. TNBC differs from other types of invasive breast cancer in that it grows and spreads faster, has limited treatment options, and is associated with a worse prognosis (outcome).

About Immunicom
Immunicom, Inc. creates novel immunotherapies designed to treat a variety of diseases using its breakthrough ImmunopheresisTM technology platform to improve patient access and affordability. The privately held medical technology company develops innovative, non-pharmaceutical approaches for treating cancer, autoimmune disorders, and inflammatory and renal diseases. Immunicom's revolutionary blood-filtering Immunopheresis technology has the potential to effectively treat a wide variety of cancer types, including those that have not responded to other treatment strategies, with possibly fewer side effects. Immunicom's lead product, the LW-02 column, has received U.S. FDA Breakthrough Device designation for stage IV metastatic cancer and European regulatory clearance (CE Mark certification) for use in adults with advanced, refractory, triple negative breast cancer (TNBC). Immunopheresis is currently being evaluated in several global oncology trials for multiple cancers. Immunicom is headquartered in San Diego, CA with operations in Philadelphia, PA, Houston, TX, and Krakow, Poland.