NCI/NIH Award $2 Million to Immunicom to Initiate Clinical Trial Evaluating Breakthrough Immunopheresis® LW-02 Molecular Subtractive Therapy in Refractory ER+/Her2- Breast Cancer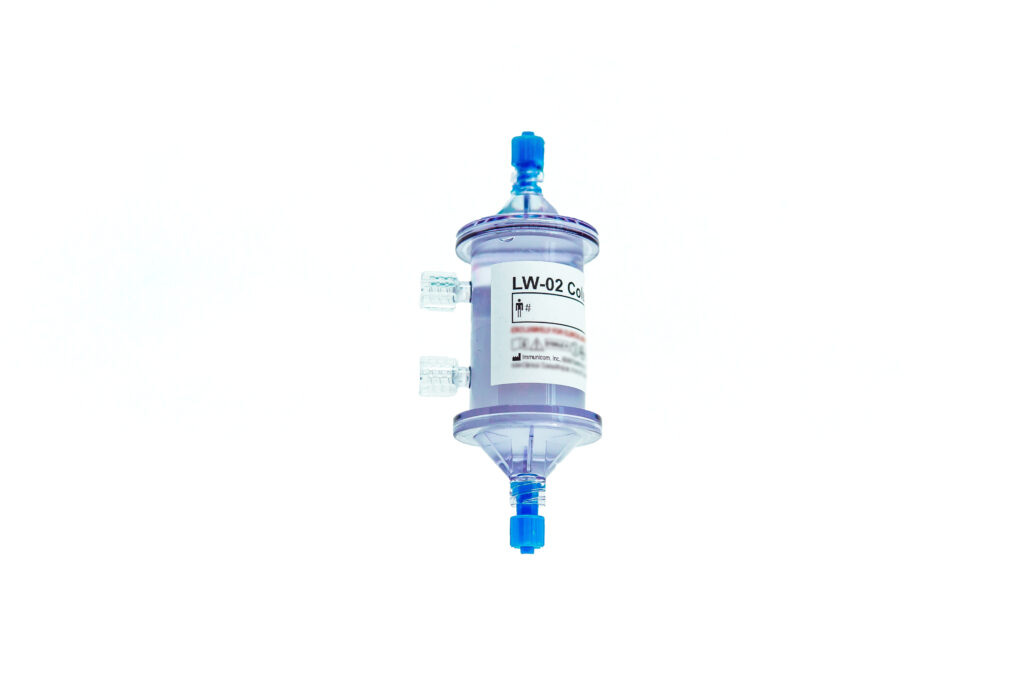 Grant will support Company's first US-based clinical trial, to be conducted at Baylor College of Medicine

New Immunopheresis® therapeutic molecular ligand-capture platform is designed to activate endogenous antitumor pathways by removing factors shed by cancer cells that suppress immune response and promote cancer growth

The Company's fourth clinical trial seeks to provide important safety, efficacy, and tolerability data that builds on encouraging body of evidence from three global trials currently evaluating Immunopheresis® therapy in breast and lung cancers, melanoma, and other solid tumors
SAN DIEGO, CA—June 14, 2022— Immunicom, Inc., a privately held clinical-stage biotechnology company with a transformative immuno-oncology platform, has been awarded $2 million by the National Cancer Institute (NCI) and National Institutes of Health (NIH) to initiate its first US-based clinical trial at the Baylor College of Medicine in Houston, Texas. The trial [NIH/NCI Grant1R44CA261565-01A1], to be conducted in collaboration with Dr. Mothaffar F. Rimawi, Professor of Medicine/Oncology and Executive Medical Director, Dan L. Duncan Cancer Comprehensive Center, Baylor College of Medicine, will evaluate the safety, tolerability, and efficacy of the FDA Breakthrough Immunopheresis® LW-02 Molecular Ligand-Capture Column for treating refractory, hormone-resistant breast cancers.
 
"We are honored to receive this grant from the NCI/NIH recognizing the potential of Immunopheresis® therapy. This clinical trial is a monumental step for Immunicom to address unmet needs for patients with difficult-to-treat cancers," said Principal Investigator Dr. Robert Segal, Immunicom's Chief Medical Officer. "We feel confident that further evaluation of Immunopheresis, both alone and as an adjunct to chemotherapy, will demonstrate that this is an essential new modality for immuno-oncology. Through this US-based trial, we will seek further evidence that Immunopheresis safely and effectively treats cancer and has a positive effect on the quality of patients' lives, as has been observed in the Company's three ongoing global trials conducted in 67 patients, with over 2,000 treatments completed to date."
 
The Company's LW-02 Molecular Ligand-Capturetechnology, which received FDA Breakthrough designation in 2018, is designed to remove specific factors (sTNF-R1/2) shed by cancer cells that inhibit endogenous tumor necrosis factor alpha (TNF-α), a cytokine widely recognized for its tumoricidal behavior. In a process like dialysis, Immunopheresis therapy removes sTNF-R1/2 from plasma, helping kickstart endogenous TNF-α response to cancer without toxicities that increase the risk of side effects.
 
The exploratory study of 12 subjects will evaluate Immunopheresis therapy in metastatic, hormone-refractory ER+/HER2- breast cancer patients who have failed at least two lines of hormone therapy, and one to two lines of chemotherapy. These patients will be recruited to receive Immunopheresis LW-02 Column induction monotherapy over a two-week period, then in combination with low-dose chemotherapy for an additional 14 weeks. Throughout treatment, patients will be monitored for reduction of circulating sTNF-R1/2 and adverse events. Objective response and clinical benefit will be exploratory; quality-of-life/clinical function, circulating CT-DNA and tumor cells, and markers of an immunologic response (including in tissue) will also be evaluated. Clinical response to treatment and tumor burden will be monitored by standard RECIST v1.1/iRECIST criteria (MRI/CT), and follow-up for up to one year will include evaluating subjects for progression free survival (PFS), best overall response (BOR), overall response rate (ORR), and overall survival (OS).
 
Subtractive Therapy – Immunopheresis® and the LW-02 Column
Immunicom employs a proprietary, high-affinity, molecular capture-ligand binding matrix within the LW-02 Column to remove specific cytokine receptors, soluble TNF-Receptors 1 and 2 (sTNFR-1/2), that are shed by cancer cells into the extracellular tumor microenvironment. sTNF-Rs serve as decoys, binding to tumor necrosis factor alpha (TNF-α) before it can bind to its membrane-embedded sTNF-R receptors to trigger several cell death pathways, as well as modulate antitumor cytotoxic T-cells and macrophage activity. The selective removal of decoy sTNF-Rs by the LW-02 Column allows the patient's immune system to identify and aggressively attack the cancer.
 
Immunopheresis, like dialysis, is a subtractive therapy that occurs outside the body, in contrast to conventional drugs and biologics that are infused into the patient. Immunopheresis is thus intended to be much better tolerated than chemo- and immunotherapies, allowing for its use as an adjunct with these therapies, possibly in lower doses to reduce their toxicity. The Immunopheresis platform is a targeted removal therapy that can selectively remove any soluble factor. Immunicom has multiple cytokine and soluble targets under development, including IL-6, VEGF, IL-1 beta, and soluble PD-L1, with others to follow.
 
About Immunicom
Immunicom, Inc. is a privately held biotechnology company with a new technology platform for immuno-oncology and inflammatory disorders. Immunicom's highly selective Immunopheresis® blood and/or plasma constituent removal technology is designed to effectively treat a wide variety of cancers and immunological disorders with a safer side-effect profile than conventional treatments. Immunicom's lead product, the LW-02 Column, previously received FDA Breakthrough Device designation in 2018 for Stage IV metastatic cancer, and European regulatory clearance (CE Mark certification) in 2021 for use in patients with advanced, refractory, metastatic triple negative breast cancer (TNBC). LW-02 Column Immunopheresis is currently being evaluated in several globally based oncology trials for multiple cancers. Immunicom is headquartered in San Diego, CA, with operations in Houston, TX, Philadelphia, PA, Krakow, Poland, and Istanbul, Turkey.