Immunicom Presents New Data at AACR 2022 of LW-02 Cartridge Immunopheresis® Therapy from Ongoing mTNBC Clinical Trial in Chemo-Refractory Patients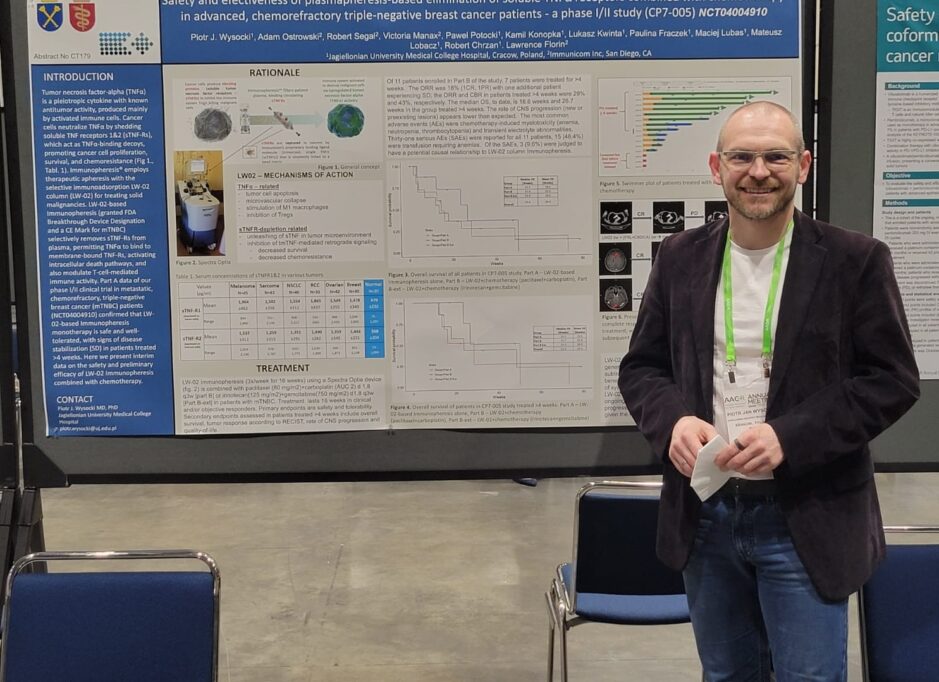 Median overall survival extends to 26.7 weeks for late-stage, chemo-refractory mTNBC (metastatic triple-negative breast cancer) patients treated with Immunopheresis® therapy plus chemotherapy with response measured by RECIST including stable disease (SD), partial (PR) and complete (CR) responses

As a measure of response, the clinical benefit rate (CBR) for patients receiving Immunopheresis treatment for greater than four weeks plus chemotherapy was over 40%, and the rate of central nervous system progression, new or preexisting CNS lesions, was observed lower than expected

Prof. Piotr Wysocki, Principal Investigator, described Immunicom's Immunopheresis subtractive therapy as especially encouraging in heavily pre-treated mTNBC patients, given its excellent safety and tolerability profile
SAN DIEGO—April 28th, 2022— Immunicom, Inc., a clinical-stage biotechnology company developing a breakthrough technology platform for immuno-oncology, presented data from its ongoing clinical investigation, Protocol CP7-005 [NCT04004910], at the American Association for Cancer Research (AACR) Annual Conference in New Orleans. The trial data, presented by Principal Investigator, Prof. Piotr Wysocki, detailed continued encouraging data for the Company's LW-02 Cartridge Immunopheresis® treatment used with chemotherapy.

Expanding on Part A data where LW-02 Cartridge Immunopheresis® was used as a monotherapy, results from Immunicom's Part B & Extension, where Immunopheresis was combined with various chemotherapy regimens, continued to demonstrate effectiveness, safety, and tolerability.  Median overall survival (OS) extended beyond six months in patients treated greater than four weeks.  In addition, the incidence of brain metastases appears to be less than would otherwise be expected in this heavily pre-treated mTNBC population, and further analyses are underway to confirm this observation.

Immunicom's Immunopheresis subtractive therapy selectively removes sTNF-Rs from plasma through therapeutic apheresis—a blood-filtering process like dialysis—using Immunicom's unique LW-02 Cartridge (containing the Company's proprietary, high-affinity, molecular ligand subtractive matrix).  Removal of sTNF-R from plasma unleashes a patient's natural TNF-α, an innate molecule in the body, to directly kill cancer tumor cells and upregulate the immune system to attack the tumor.

Commenting on the data, Dr. Wysocki stated, "We are seeing further confirmation that Immunopheresis is a potentially revolutionary treatment for cancer. In these difficult to treat late-stage cancer patients, the possibility of extending survival and preventing spread of the cancer to the brain, which is common in these patients, is especially promising and opens a new playing field in the battle against refractory cancers. Our longest surviving patient who had progressed three prior lines of treatment before being treated with Immunopheresis therapy, had a robust response to treatment that lasted nine months. For this patient, disease progression occurred with reduced frequency of LW-02 Immunopheresis treatment, but a robust response was again observed on increasing the LW-02 treatment to three times per week, demonstrating the ability of LW-02 Immunopheresis therapy to produce a durable and sustained response now out to over 18 months."

Immunicom's AACR presentation underscores the burgeoning prospects for the Company's Immunopheresis technology platform on multiple fronts in the fight against cancer and other immunologic disorders. The LW-02 Cartridge has received FDA Device Breakthrough Designation for treatment of solid malignancies and a CE Mark in Europe for use in chemo-refractory mTNBC. Three ongoing clinical trials continue to assess LW-02 Cartridge Immunopheresis as a monotherapy and/or in combination with chemo- or immunotherapy, with others planned to initiate later in 2022.

Prof. Wysocki's poster presentation is available on Immunicom's website.

Subtractive Therapy – Immunopheresis® and the LW-02 Cartridge
Immunicom employs a proprietary, high-affinity, molecular capture-ligand binding matrix within the LW-02 Cartridge to remove specific cytokine receptors, soluble TNF-Receptors 1 and 2 (sTNFR-1/2), that are shed by cancer cells into the extracellular tumor microenvironment. sTNF-Rs serve as decoys, binding tumor necrosis factor alpha (TNF-α) before it can bind to its membrane-embedded sTNF-Rs receptor to trigger several cell death pathways. The selective removal of decoy sTNF-Rs by the LW-02 Cartridge also unleashes the patient's immune system to identify and aggressively attack the cancer.

Immunopheresis, like dialysis, is a subtractive therapy that occurs outside the body, in contrast to conventional drug and biologics that are infused into the patient. Immunopheresis is thus much better tolerated than chemo- and immunotherapies, allowing for its use as an adjunct with these therapies, possibly in lower doses to reduce their toxicity.

About Immunicom
Immunicom, Inc. is a privately held biotechnology company with a new technology platform for immuno-oncology. Immunicom's highly selective Immunopheresis blood and/or plasma constituent removal technology is designed to effectively treat a wide variety of cancers and immunological disorders with a safer side-effect profile than conventional treatments. Immunicom's lead product, the LW-02 Cartridge, previously received FDA Breakthrough Device designation in 2018 for Stage IV metastatic cancer, and European regulatory clearance (CE Mark certification) in 2021 for use in patients with advanced, refractory mTNBC. Immunopheresis is currently being evaluated in several globally based oncology trials for multiple cancers. Immunicom is headquartered in San Diego, CA, with operations in Houston, TX, Philadelphia, PA, Krakow, Poland, and Istanbul, Turkey.