Immunicom Introduces 2nd Product of Immunopheresis® Therapy Platform Designed to Suppress Cancer Progression and Overcome Therapeutic Resistance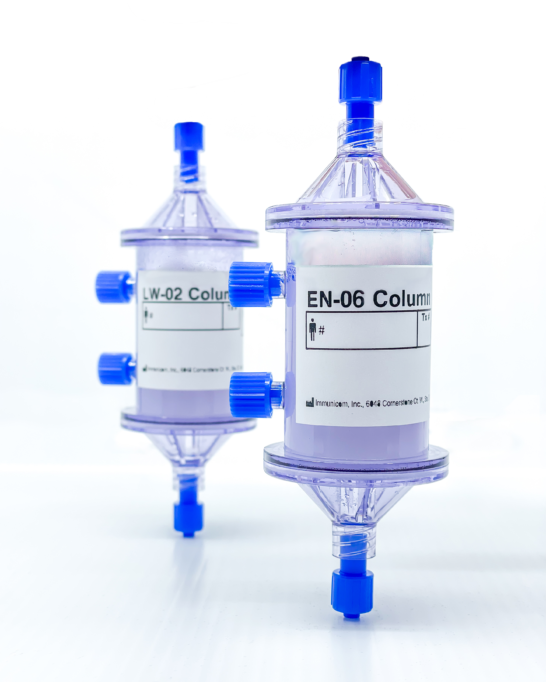 Immunotherapy device intended to safely filter-out IL-6 cytokine through novel subtractive therapy
 
Initiation of pre-clinical program is critical first step in Immunicom's targeted program for rapid progression into human clinical studies by early 2022
SAN DIEGO, Sept. 20, 2021 – Immunicom, Inc., a global biotechnology leader in developing subtractive therapies to treat life-threatening diseases, today announced the company has begun pre-clinical trials investigating the safety and efficacy of the EN-06 column. The EN-06 column is a new therapeutic device designed to reduce systemic levels of interleukin-6 (IL-6), an immune factor, that when overproduced can promote cancer progression, create resistance to existing therapies, and contribute to life threatening side effects. In addition to cancer, IL-6 is also associated with complications in patients with COVID-19 and various autoimmune diseases.
 
Immunicom's "subtractive" therapeutic strategy differs from conventional modalities in that it uses a highly selective filtration device to target and remove immune inhibitors by circulating a patient's blood outside of the body, through the filter, and back into the body. This differs from "additive" treatment strategies, like pharmaceuticals, which are at greater risk of toxicity and side effects because they must enter the body. By being both highly selective and subtractive in nature, the Immunopheresis® therapy utilizes columns designed to capture and remove specific cytokines, such as IL-6, from the blood – a novel therapeutic strategy for countering conditions caused by cytokine overproduction.
 
"IL-6 is an inflammatory cytokine associated with poor prognosis and decreased overall survival in various cancer states. While IL-6 is a well-known drug target, drug resistance and side effects are significant issues for oncologists and patients," said Immunicom Chief Clinical Officer, Dr. Victoria Manax. "Immunicom's novel approach to clear IL-6 has the potential to be a real game changer in the oncology field.  If successful, the company's subtractive therapy may not only halt tumorigenesis but also overcome the historical issues we have seen with drug therapies."
 
"Current additive treatments target IL-6 with antibodies that bind to the cytokine and do not clear IL-6 from the body. Our unique subtractive approach is the first therapy designed to clear IL-6 by filtering it out of the patient's body," said Immunicom CEO, Amir Jafri. "The Immunopheresis therapy platform has shown promising results in targeting other specific cytokine for late-stage cancer patients with its first product, the LW-02 column, providing us confidence in achieving similar results with the EN-06 column."
 
The pre-clinical trial is being conducted at the University of Agriculture at Krakow and American Heart of Poland and is expected to be complete by November 2021. EN-06 column is the second product of the Immunopheresis therapy platform. The first product, LW-02 column, is designed to safely target sTNFR cytokines and has received U.S. FDA Breakthrough Device designation for stage IV metastatic cancer and European regulatory clearance for use in adults with advanced, refractory, triple negative breast cancer (TNBC).
 
Sign up for Immunicom's newsletter for updates about this study and other Immunicom news, or follow our Twitter page.
 
About Immunicom
Immunicom, Inc. creates novel immunotherapies designed to treat a variety of diseases using its breakthrough Immunopheresis® technology platform to improve patient access and affordability. The privately held medical technology company develops innovative, non-pharmaceutical approaches for treating cancer, autoimmune disorders, and inflammatory and renal diseases. Immunicom's revolutionary blood-filtering Immunopheresis technology has the potential to effectively treat a wide variety of cancer types, including those that have not responded to other treatment strategies, with possibly fewer side effects. Immunicom's lead product, the LW-02 column, has received U.S. FDA Breakthrough Device designation for stage IV metastatic cancer and European regulatory clearance (CE Mark certification) for use in adults with advanced, refractory, triple negative breast cancer (TNBC). Immunopheresis is currently being evaluated in several global oncology trials for multiple cancers. Immunicom is headquartered in San Diego, CA with operations in Philadelphia, PA, Houston, TX, and Krakow, Poland.
 
Forward Looking Statements
This press release contains certain forward-looking statements regarding Immunicom device capabilities.  All such statements are based upon current Immunicom expectations and involve a number of business and technical risks and uncertainties that could cause actual results to differ materially from anticipated results described, implied or projected in any forward-looking statement, including, without limitation, clinical trial results, regulatory approvals, unexpected changes in technologies, uncertainties inherent in product development and commercialization, intellectual property protection, and the ability of our products to gain market acceptance.