Immunicom Recognized as One of the Best Places to Work in the U.S.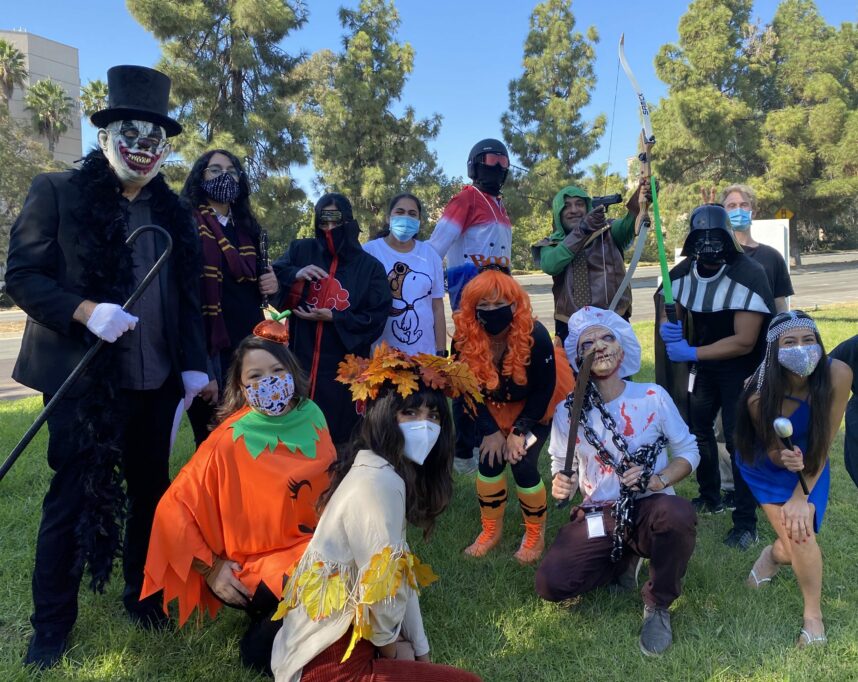 Breakthrough Immunotherapy Company earns 2021 Great Place to Work Certification™️
SAN DIEGO, April 20, 2021 – Immunicom, Inc., a pioneering global biotechnology company, today announced it is Certified™ by Great Place to Work®. This esteemed award is based solely on direct sentiments from current employees about their experience working at Immunicom. This year, 100% of employees said Immunicom is a great place to work – 41% higher than the average U.S. company.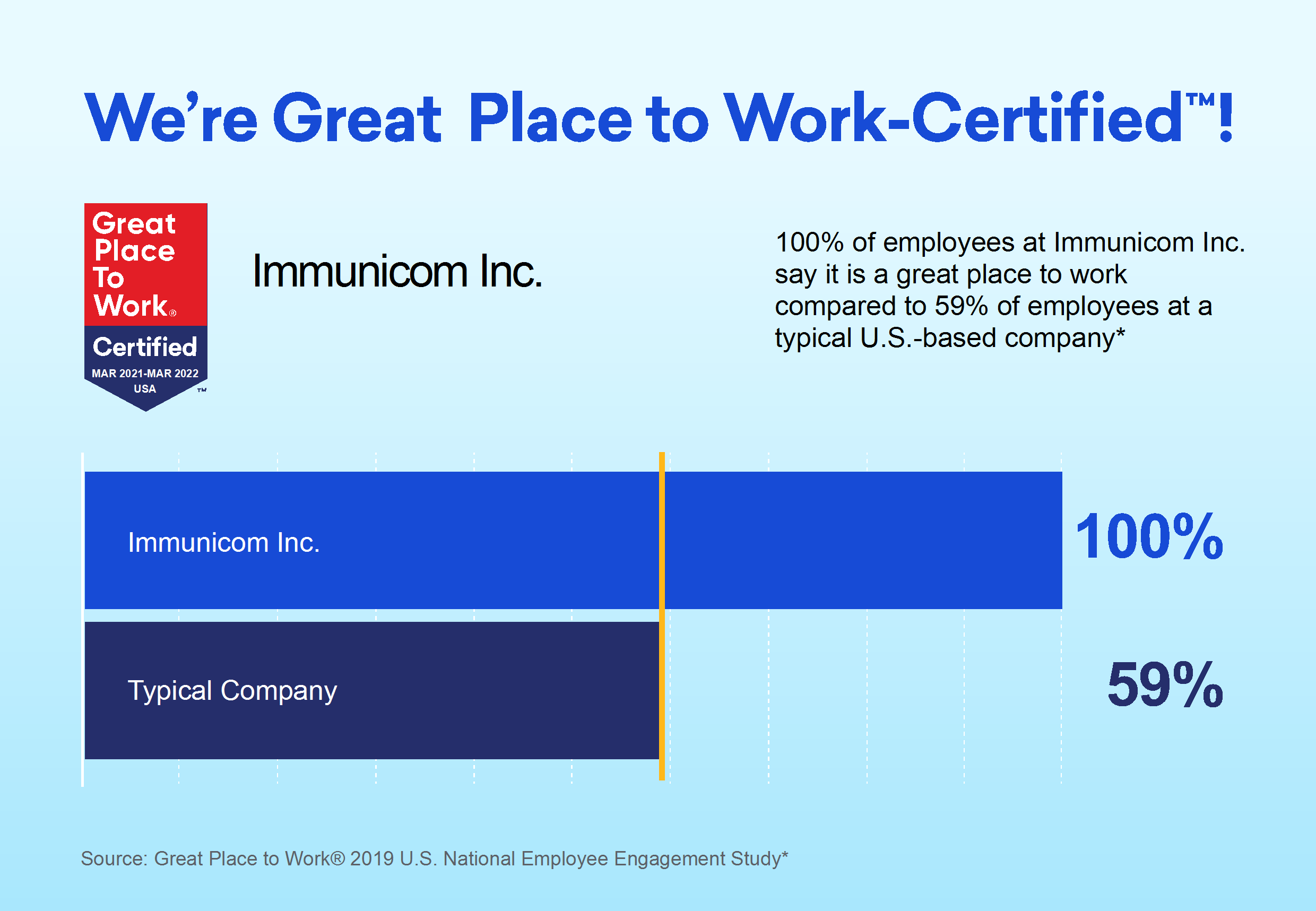 Great Place to Work® builds upon 30 years of research to develop an employee experience platform that collects and shares detailed results to take the guesswork out of company culture.

"Immunicom is fortunate to have a team of skillful employees who believe in Immunicom's innovation and pursue our patient-driven mission every day," said Amir Jafri, CEO and Founder. "We celebrate and thank them for all they do to earn Immunicom many incredible recognitions and success."

When asked anonymously during the certification process if there is anything unique about Immunicom that makes it a great place to work, an employee answered "The company's mission is to develop humanitarian solutions for cancer that all people can afford. The basis of the company is caring for everyone. I think that caring for everyone not only applies to our cancer patients but translates into how we are treated at work. Despite our high intensity jobs trying to produce a revolutionary cancer treatment, the work environment is that of a family of people working together to save human beings."

According to Great Place to Work research, employees at Certified great workplace are 93% more likely to look forward to coming to work, and are twice as likely to be paid fairly, earn a fair share of the company's profits and have a fair chance at promotion.

"Great Place to Work Certification™ isn't something that comes easily – it takes ongoing dedication to the employee experience," said Sarah Lewis-Kulin, vice president of global recognition at Great Place to Work. "It's the only official recognition determined by employees' real-time reports of their company culture. Earning this designation means that Immunicom is one of the best companies to work for in the country."

Visit Immunicom's Company Profile on Great Place to Work® for further information on the company's culture.

About Immunicom
Immunicom, Inc. creates novel immunotherapies designed to treat a variety of diseases using its breakthrough ImmunopheresisTM technology platform to improve patient access and affordability. The privately held medical technology company develops innovative, non-pharmaceutical approaches for treating cancer, autoimmune disorders, and inflammatory and renal diseases. Immunicom's revolutionary blood-filtering Immunopheresis technology has the potential to effectively treat a wide variety of cancer types, including those that have not responded to other treatment strategies, with possibly fewer side effects. Immunicom's lead product, the LW-02 column, has received U.S. FDA Breakthrough Device designation for stage IV metastatic cancer and European regulatory clearance (CE Mark certification) for use in adults with advanced, refractory, triple negative breast cancer (TNBC). Immunopheresis is currently being evaluated in several global oncology trials for multiple cancers. Immunicom is headquartered in San Diego, CA with operations in Philadelphia, PA, Houston, TX, and Krakow, Poland.

About Great Place to Work Certification™
Great Place to Work® Certification™ is the most definitive "employer-of-choice" recognition that companies aspire to achieve. It is the only recognition based entirely on what employees report about their workplace experience – specifically, how consistently they experience a high-trust workplace. Great Place to Work Certification is recognized worldwide by employees and employers alike and is the global benchmark for identifying and recognizing outstanding employee experience. Every year, more than 10,000 companies across 60 countries apply to get Great Place to Work-Certified.

About Great Place to Work®
Great Place to Work® is the global authority on workplace culture. Since 1992, they have surveyed more than 100 million employees worldwide and used those deep insights to define what makes a great workplace: trust. Their employee survey platform empowers leaders with the feedback, real-time reporting and insights they need to make data-driven people decisions. Everything they do is driven by the mission to build a better world by helping every organization become a great place to work For All™. Learn more at greatplacetowork.com.