Immunicom Presentation Defines Breakthrough Subtractive Therapy's Role in "New Era" Cancer Care at LSI's Annual Emerging MedTech Summit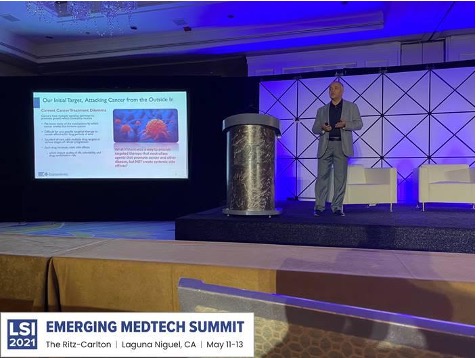 Immunicom CEO predicting cancer treatment standards will evolve with better quality-of-life and efficacy outcomes by employing novel non-pharmaceutical immune-oncology strategies such as subtractive ImmunopheresisTM
Global clinical trials are currently assessing Immunicom's ImmunopheresisTM filtration-based treatment in late-stage cancer patients to capture immuno-inhibitory targets
SAN DIEGO, June 23, 2021 – Immunicom, Inc., a global clinical-stage biotechnology company that is redefining immuno-oncology with a non-pharmaceutical subtractive immunotherapy approach intended to maintain patients' quality-of-life with a promising, non-toxic cancer therapy, presented information about Immunicom's ImmunopheresisTM filtration-based treatment at the "Emerging Medtech Summit 2021", an annual forum spotlighting emerging medical technology hosted by Life Science Intelligence (LSI), a leading consulting group for the global healthcare system.
 
Immunicom's presentation, "A New Era in Cancer Treatment" was given by Founder and CEO, Amir Jafri, who discussed the potential advantages of Immunicom's subtractive treatment strategy, ImmunopheresisTM, in contrast to standard of care cancer treatments.  Immunicom's lead oncology product, the LW-02 column, is a molecularly engineered blood filtration device designed to safely capture immune inhibitors shed by cancer cells to block anti-tumor activity.  Immunicom's clinical trials are the first to investigate this novel alternative cancer treatment paradigm.
 
"Immunicom is pioneering the cancer industry with a new technology and conducting multiple global cancer trials using this new treatment modality. Important conferences like LSI give us the opportunity to show prominent healthcare leaders the potential of Immunopheresis," Jafri said, "Healthcare leaders immediately recognize the implications for Immunicom's subtractive therapy to deliver a breakthrough treatment that maintains patients' quality-of-life especially in those with late stage cancer – a recurring challenge with existing cancer treatments – and they are eager for safer treatment options that are better tolerated and [that] do not drive up medical costs associated with the side effects of existing therapies."
 
"The Emerging Medtech Summit successfully connects innovative medtech startups with active investors each year, further accelerating our mission to deliver life changing technologies to patients in need. Immunicom is exactly the type of company that we define as innovative," said Scott Pantel, President & CEO of LSI, "Their unique approach to treat cancer without using pharmaceutical drugs or radiation is revolutionary and we're proud to have provided Amir with a platform to speak on this potentially life changing technology."
 
To view Mr. Jafri's presentation, please view the video below.


About Immunicom
Immunicom, Inc. creates novel immunotherapies designed to treat a variety of diseases using its breakthrough ImmunopheresisTM technology platform to improve patient access and affordability. The privately held medical technology company develops innovative, non-pharmaceutical approaches for treating cancer, autoimmune disorders, and inflammatory and renal diseases. Immunicom's revolutionary blood-filtering Immunopheresis technology has the potential to effectively treat a wide variety of cancer types, including those that have not responded to other treatment strategies, with possibly fewer side effects. Immunicom's lead product, the LW-02 column, has received U.S. FDA Breakthrough Device designation for stage IV metastatic cancer and European regulatory clearance (CE Mark certification) for use in adults with advanced, refractory, triple negative breast cancer (TNBC). Immunopheresis is currently being evaluated in several global oncology trials for multiple cancers. Immunicom is headquartered in San Diego, CA with operations in Philadelphia, PA, Houston, TX, and Krakow, Poland.

 Forward Looking Statements
This press release contains certain forward-looking statements regarding Immunicom device capabilities.  All such statements are based upon current Immunicom expectations and involve a number of business and technical risks and uncertainties that could cause actual results to differ materially from anticipated results described, implied or projected in any forward-looking statement, including, without limitation, clinical trial results, regulatory approvals, unexpected changes in technologies, uncertainties inherent in product development and commercialization, intellectual property protection, and the ability of our products to gain market acceptance.