Immunicom's Data at ASCO Expand on the Antitumor Activity of its Novel Non-Pharmaceutical Immunotherapy in Late-Stage Breast Cancer Patients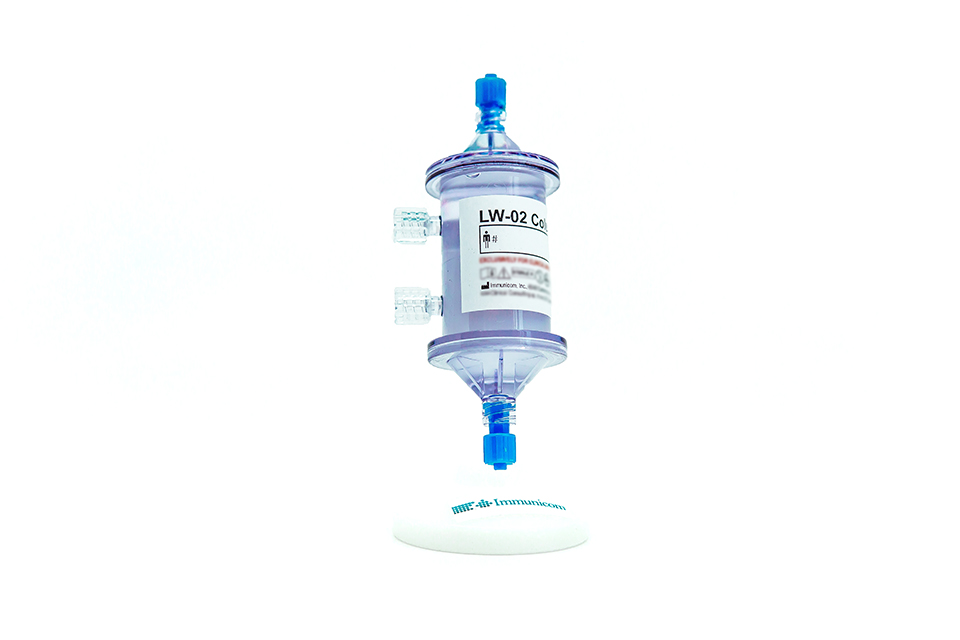 Immunopheresis®

,

a subtractive filtration-based therapy, removes inhibitory proteins produced by cancer cellsFirst-in-human investigation of novel approach designed to upregulate natural immune response against cancer while maintaining patient quality-of-life in contrast to standard chemotherapies Intended to address unmet medical needs in triple-negative breast cancer patients with advanced cancers that progressed on existing therapies
SAN DIEGO, July 20, 2021 – Immunicom, Inc., a clinical stage biotech, shared preliminary data from its metastatic triple-negative breast cancer (mTNBC) clinical trial with its novel breakthrough Immunopheresis® therapy at the American Society of Clinical Oncology (ASCO) Annual Meeting 2021. Immunicom's subtractive immunotherapies are designed to remove immune inhibitors and enhance patients natural immune response without compromising quality-of-life as is typically seen after treatment with chemo-/immuno-oncology agents. ASCO's Annual Meeting is one of the world's premier scientific gatherings of cancer specialists and researchers.
 
Immunicom is investigating its FDA-designated breakthrough Immunopheresis therapy, which is a filtration-based subtractive treatment designed to capture sTNF-R proteins that are shed by cancer cells and inhibit a patient's natural anti-tumor immune activity.  Immunicom presented data for the second cohort of mTNBC patients treated with Immunopheresis in combination with weekly chemotherapy procedures (paclitaxel [60 mg/m2] plus carboplatin [AUC2] combination), which were found to be generally safe and provided early, promising signs of antitumor activity.
 
Immunicom previously presented data for the initial cohort of patients treated with Immunopheresis alone at AACR's Annual Meeting 2021, revealing an 80% decrease of the inhibitory sTNF-R proteins and observation of sustained quality-of-life while on therapy with minimal side effects (details here).
 
"The ASCO data expand on our breakthrough Immunopheresis therapy, specifically in combination with low-dose chemotherapy to demonstrate potential for synergistic and enhanced activity of sTNFR pulldown in late-stage patients who have failed multiple prior lines of therapy," said Dr. Robert Segal, Immunicom Chief Medical Officer. "The goal of halting disease progression and the potential of going into disease remission with this approach, where side-effects are minimal, has significant implications for the health and well-being of these patients with terminal disease. To be able to continue with normal daily activities, is in stark contrast to what these patients might normally experience if they choose to undergo a last-ditch treatment effort with yet another round of standard chemotherapy."
 
Immunicom's abstract, "Extracorporeal pulldown of soluble TNFRs to unleash the activity of endogenous TNFα in chemorefractory triple-negative breast cancer patients – first-in-human experience"  was published in ASCO's June 2021 Journal of Clinical Oncology.  The study's principal investigator and lead author is Piotr Wysocki, MD, PhD, Department Head of Oncology at the Jagiellonian University – Medical College Hospital in Krakow, and President of the Polish Society of Clinical Oncology.
 
About Immunicom
Immunicom, Inc. creates novel immunotherapies designed to treat a variety of diseases using its breakthrough ImmunopheresisTM technology platform to improve patient access and affordability. The privately held medical technology company develops innovative, non-pharmaceutical approaches for treating cancer, autoimmune disorders, and inflammatory and renal diseases. Immunicom's revolutionary blood-filtering Immunopheresis technology has the potential to effectively treat a wide variety of cancer types, including those that have not responded to other treatment strategies, with possibly fewer side effects. Immunicom's lead product, the LW-02 column, has received U.S. FDA Breakthrough Device designation for stage IV metastatic cancer and European regulatory clearance (CE Mark certification) for use in adults with advanced, refractory, triple negative breast cancer (TNBC). Immunopheresis is currently being evaluated in several global oncology trials for multiple cancers. Immunicom is headquartered in San Diego, CA with operations in Philadelphia, PA, Houston, TX, and Krakow, Poland.
 
Forward Looking Statements
This press release contains certain forward-looking statements regarding Immunicom device capabilities.  All such statements are based upon current Immunicom expectations and involve a number of business and technical risks and uncertainties that could cause actual results to differ materially from anticipated results described, implied or projected in any forward-looking statement, including, without limitation, clinical trial results, regulatory approvals, unexpected changes in technologies, uncertainties inherent in product development and commercialization, intellectual property protection, and the ability of our products to gain market acceptance.