Immunicom Presents Promising Preliminary Data from Multiple Studies in Late-Stage Cancer Patients at ISFA / E-ISFA Conference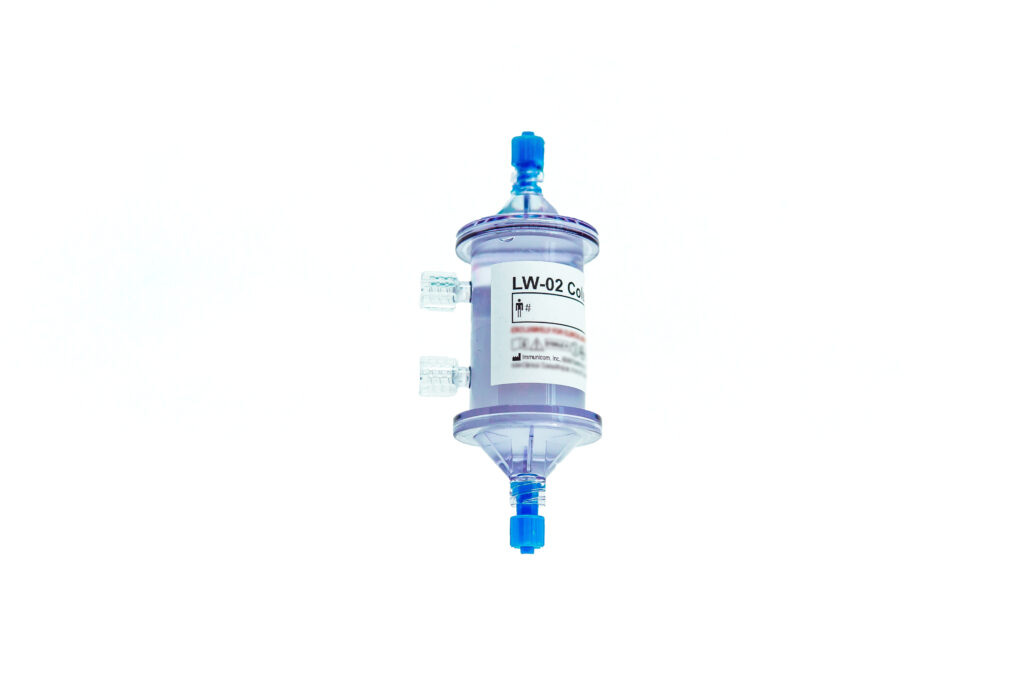 ImmunopheresisTM is shown to be well-tolerated in treating cancer patients who failed multiple lines of standard therapies
SAN DIEGO, April 30, 2021 – Immunicom, Inc., a clinical-stage biotechnology company pioneering "subtractive" advanced cancer therapies, presented promising preliminary data from trials investigating ImmunopheresisTM therapy for metastatic, refractory, solid tumor cancer patients who previously failed multiple lines of therapy.  The results presented by Immunicom's Chief Medical Officer, Dr. Robert Segal, at the 2021 ISFA/E-ISFA virtual joint conference established that Immunopheresis administered to end-stage cancer patients was generally well-tolerated and has the potential for treating refractory malignancies.
 
Immunicom's ongoing clinical trials are in the most difficult to treat, late-stage cancer patients. Immunicom's novel Immunopheresis therapy uses its proprietary subtractive LW-02 column to selectively remove immune-suppressive cytokines produced by cancer tumors.
 
"Standard drug treatments are additive therapies that introduce substances into the body to treat cancers. We are developing high-affinity subtractive therapies specifically for these difficult metastatic cancers," said Immunicom's CEO, Amir Jafri. "Our mission is to define a new era of cancer treatment that is safe and effective."
 
Dr. Segal's presentation focused on results from over 600 Immunopheresis procedures conducted in 34 end-stage cancer patients from ongoing clinical trials, demonstrating the viability of this technology as a new treatment strategy. The clinical trials are evaluating the LW-02 column for treating multiple cancers, including triple negative breast cancer (TNBC), non-small cell lung cancer (NSCLC), metastatic melanoma, and renal cell carcinoma. The LW-02 column is being investigated both as a monotherapy and in combination with low-dose metronomic chemotherapy and the well-known immunotherapy checkpoint inhibitors Opdivo® (Bristol-Myers Squibb) and Tecentriq® (Roche). These trials are being conducted in collaboration with world-renowned research organizations and thought leaders including:
 
Poland – at Jagiellonian University of Krakow Hospital, under the direction of Principal Investigator, Professor Piotr Wysocki, MD, PhD;
 
Israel – at Sheba Medical Center's Ella Lemelbaum Institute for Immuno-Oncology (Tel Aviv), under the direction of Dr. Ronnie Shapira, MD and Prof. Gal Markel, MD, PhD; and
 
Turkey – at Acıbadem Altunizade Hospital (Istanbul), a member of the Acıbadem/IHH Healthcare Group, under the direction of Principal Investigator, Prof. Dr. Gokhan Demir, MD, PhD.
 
Subtractive Therapy – ImmunopheresisTM and the LW-02 Column
Immunicom's innovative Immunopheresis approach uses the LW-02 column to extract specific immune-suppressive cytokines produced by cancer tumors. Selective removal of these targeted cytokines is intended to neutralize cancer's ability to block a patient's natural immune defense mechanisms which are significantly compromised in late-stage, metastatic disease and thereby "re-energizes the immune system to aggressively fight cancer." Immunopheresis is a "subtractive therapy," in contrast to drugs that are "additive." Subtractive therapy is meant to avoid the side effects, toxicity and negative impact on a patient's quality of life typical of other cancer treatments.
 
Immunicom believes that the LW-02 column could be used either in combination with other therapies or as a stand-alone treatment. The LW-02 Immunopheresis column has already received Breakthrough Device Designation for stage IV metastatic cancers from the U.S. Food and Drug Administration (FDA). Immunicom has obtained ISO 13485 certification for its manufacturing and related quality systems.
 
For an overview of how Immunopheresis breakthrough technology works, watch Immunicom's How it Works video.
 
Immunopheresis and the LW-02 column is considered an investigational therapy by the U.S. FDA and other regulatory authorities. The clinical efficacy of the LW-02 column has not yet been demonstrated. Clinical investigations evaluating the clinical efficacy of the LW-02 column for TNBC are ongoing.
 
About Immunicom
Immunicom, Inc. creates novel immunotherapies designed to treat a variety of diseases using its breakthrough ImmunopheresisTM technology platform to improve patient access and affordability. The privately held medical technology company develops innovative, non-pharmaceutical approaches for treating cancer, autoimmune disorders, and inflammatory and renal diseases. Immunicom's revolutionary blood-filtering Immunopheresis technology has the potential to effectively treat a wide variety of cancer types, including those that have not responded to other treatment strategies, with possibly fewer side effects. Immunicom's lead product, the LW-02 column, has received U.S. FDA Breakthrough Device designation for stage IV metastatic cancer and European regulatory clearance (CE Mark certification) for use in adults with advanced, refractory, triple negative breast cancer (TNBC). Immunopheresis is currently being evaluated in several global oncology trials for multiple cancers. Immunicom is headquartered in San Diego, CA with operations in Philadelphia, PA, Houston, TX, and Krakow, Poland.
 
About ISFA / E-ISFA
The International Society for Apheresis (ISFA) and the European Group – International Society for Apheresis (E-ISFA) hosted their first joint 13th World ISFA Congress and 3rd E-ISFA Congress. ISFA disseminates the most up-to-date apheresis technologies and their clinical applications. E-ISFA is a non-profit association and an autonomous subdivision of the International Society for Apheresis (ISFA). Both societies engage in all clinical, scientific, technical and organizational matters in subject areas and fields of activity concerning apheresis and extracorporeal therapy. This is achieved particularly through the association's own, directly organized scientific events and publications as well as the scientific cooperation with other associations which are active in the same field.
 
Forward Looking Statements
This press release contains certain forward-looking statements regarding Immunicom device capabilities.  All such statements are based upon current Immunicom expectations and involve a number of business and technical risks and uncertainties that could cause actual results to differ materially from anticipated results described, implied or projected in any forward-looking statement, including, without limitation, clinical trial results, regulatory approvals, unexpected changes in technologies, uncertainties inherent in product development and commercialization, intellectual property protection, and the ability of our products to gain market acceptance.