Oncology Investors to Hear "Cancer Device Company of the Year" Immunicom Present at MedInvest Conference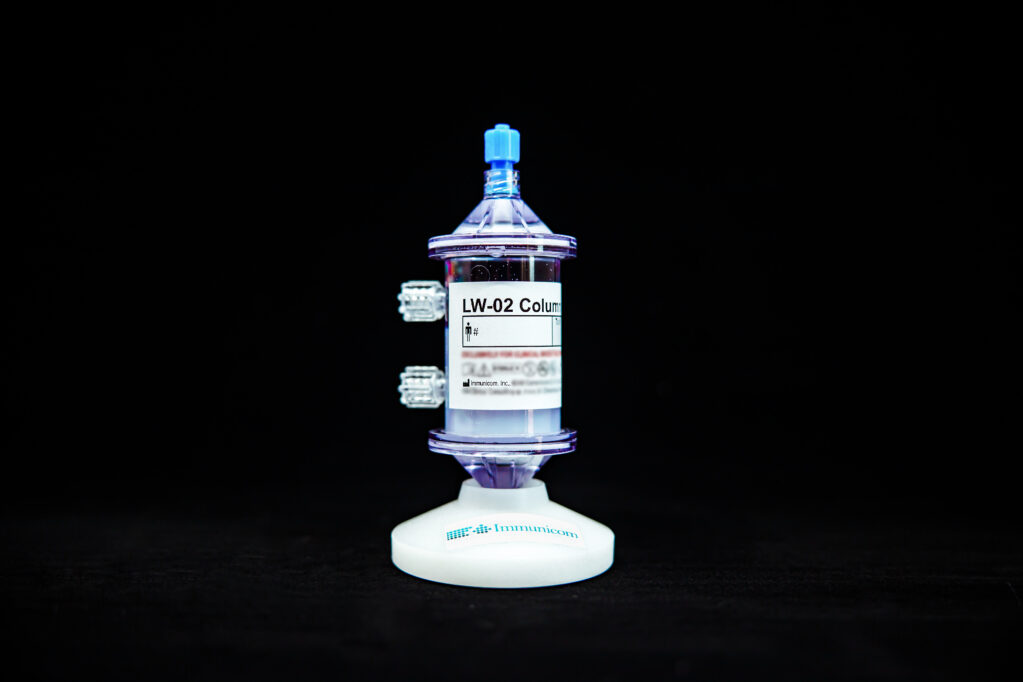 CEO Amir Jafri will demonstrate how his FDA Breakthrough Device's platform-based, subtractive therapy business model optimizes standard of care and shareholder value
SAN DIEGO, March 26, 2021 – Immunicom, Inc., a global biotechnology company pioneering novel "subtractive" immunotherapies, today announced CEO Amir Jafri will speak at MedInvest's 2021 Oncology Investors Conference on March 29 at 12:30 PM.  Immunicom was recently named MedInvest's "Cancer Device Company of the Year – 2021", and Jafri will discuss the unique platform-based vision driving the many such accolades Immunicom's FDA Breakthrough Device has garnered, and the distinct advantages the platform has over drug-based therapies.

Jafri's presentation, titled "A New Era in Cancer Care," will speak to the current industry shortcomings and Immunicom's solution strategy.
 
"The consequence of the current drug-centric standard of care is the toxicity patients suffer from round after round of drug combinations, which cancers often build resistance to," Jafri said. "So instead of adding substances into the body, our therapy is subtractive – we remove immune inhibitors.  These investors eagerly attend these conferences because they know how much room there is for improvement and they're all looking for what's next."
 
Jafri's confidence in a strategy that is a literal inversion of convention is evident – after founding the company in 2013, he immediately targeted the most difficult advanced cancers to treat, and his three clinical trials underway recruited metastatic patients who had failed multiple rounds of standard therapies. One of those trials resulted in a CE Mark to reduce the immune system inhibitors, sTNFRs, addressing an unmet medical need in triple negative breast cancer patients with advanced refractory metastatic disease, showing improvement in the quality of life, and potential for extension of life, and disease stabilization in these end-of-life patients.
 
"There are reasons why MedInvest named us 'Cancer Device Company of the Year 2021' and is featuring this presentation," Jafri said.  "They want to introduce investors to tomorrow's therapies so tomorrow is better than today."  
 
The conference has the potential, indeed, to enable next generation treatments. Sponsored by the National Foundation for Cancer, it is attended by over 200 of the largest and most serious oncology investors, spanning venture, public funds, foundations, family offices, angels, and government grant making entities.  MedInvest presenters represent the industry's most elite and promising from startups, early pre-clinical through clinical, and public and private companies worldwide.
 
Jafri's presentation will follow a keynote address by 2018 Nobel Laureate Dr. Jim Allison, whose work led to development of the first immune checkpoint inhibitor drug Ipilimumab, which was approved for late-stage melanoma by the U.S. Food and Drug Administration in 2011.
 
Watch the video below to view Jafri's presentation:
Subtractive Therapy – ImmunopheresisTM and the LW-02 Column
Immunicom's innovative Immunopheresis approach uses the LW-02 column to extract specific immune-suppressive cytokines produced by cancer tumors. Selective removal of these targeted cytokines is intended to neutralize cancer's ability to block a patient's natural immune defense mechanisms which are significantly compromised in late-stage, metastatic disease and thereby "re-energizes the immune system to aggressively fight cancer." Immunopheresis is a "subtractive therapy", in contrast to drugs that are "additive", subtractive therapy is meant to avoid the side effects, toxicity and negative impact on a patient's quality of life typical of other cancer treatments.
 
Immunicom believes that the LW-02 column could be used either in combination with other therapies or as a stand-alone treatment. The LW-02 Immunopheresis column has already received Breakthrough Device Designation for stage IV metastatic cancers from the U.S. Food and Drug Administration (FDA). Immunicom has obtained ISO 13485 certification for its manufacturing and related quality systems.
 
The LW-02 Immunopheresis column is currently being evaluated in several global oncology trials for multiple cancers, including TNBC, non-small cell lung cancer (NSCLC), metastatic melanoma and renal cell carcinoma. It is being investigated both as a monotherapy and in combination with low-dose metronomic chemotherapy and the well-known immunotherapy checkpoint inhibitors Opdivo® (Bristol-Myers Squibb) and Tecentriq® (Roche). These trials are being conducted in collaboration with world-renowned research organizations and thought leaders including:
 
Poland – at Jagiellonian University of Krakow Hospital, under the direction of Principal Investigator, Professor Piotr Wysocki, MD, PhD; and
 
Israel – at Sheba Medical Center's Ella Lemelbaum Institute for Immuno-Oncology (Tel Aviv), under the direction of Dr. Ronnie Shapira, MD and Prof. Gal Markel, MD, PhD; and
 
Turkey – at Acıbadem Altunizade Hospital (Istanbul), a member of the Acıbadem/IHH Healthcare Group, under the direction of Principal Investigator, Prof. Dr. Gokhan Demir, MD, PhD.
 
For an overview of how Immunopheresis breakthrough technology works, watch Immunicom's How it Works video.
 
Immunopheresis and the LW-02 column is considered an investigational therapy by the U.S. FDA and other regulatory authorities. The clinical efficacy of the LW-02 column has not yet been demonstrated. Clinical investigations evaluating the clinical efficacy of the LW-02 column for TNBC are ongoing.
 
About Immunicom
Immunicom, Inc. creates novel immunotherapies designed to treat a variety of diseases using its breakthrough ImmunopheresisTM technology platform to improve patient access and affordability. The privately held medical technology company develops innovative, non-pharmaceutical approaches for treating cancer, autoimmune disorders, and inflammatory and renal diseases. Immunicom's revolutionary blood-filtering Immunopheresis technology has the potential to effectively treat a wide variety of cancer types, including those that have not responded to other treatment strategies, with possibly fewer side effects. Immunicom's lead product, the LW-02 column, has received U.S. FDA Breakthrough Device designation for stage IV metastatic cancer and European regulatory clearance (CE Mark certification) for use in adults with advanced, refractory, triple negative breast cancer (TNBC). Immunopheresis is currently being evaluated in several global oncology trials for multiple cancers. Immunicom is headquartered in San Diego, CA with operations in Philadelphia, PA, Houston, TX, and Krakow, Poland.